Blow-up: Hulakai at the Knox Course, August 15
Photos by Ely Gilliam, sad story by Alex Cheng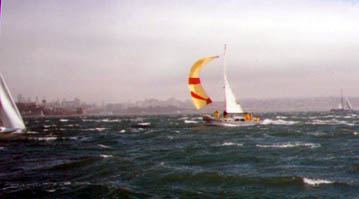 Spinnaker Precision Sewing behind the Mt. View West Marine store is an interesting all-women company that repairs sails and does industrial sewing. Embarrassingly, they know me well. When I walked in with my spinnaker bag, Annie, greeted me with, "Hi Alex, what did you rip this time?" At the first viewing, she said "Whew" then called over Silvia the master repairer saying "Wow, look at this!" Since both leech tapes had ripped off and were wound into the world's biggest tangled knot, it took awhile to untangle the spinnaker plus the French Sock we use, to assess the damage. Finally, we found out that our spinnaker was beheaded! The entire head down about two feet was severed and still inside the Sock; the rest was shredded in four different areas. Finally, Silvia said in a quiet, slightly quivering voice, "I can fix this ... but it's a spectacular!"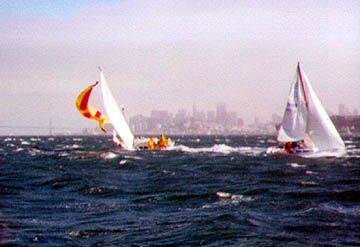 Things weren't as clear back on the race course. I remembered rounding up at the leeward mark on the second race with another of our disasters, typically a tangled mess made up of pole, sheets, foreguy, halyards and some legs. The earlier rounding already earned Gary, my indefatigable foredeck guy, his second battered and bleeding forehead in two successive races. I learned that when blood oozes out of his white baseball cap in a
golf-ball-size splotch, this intimidates other crew members when I ask them to go up to the foredeck to help.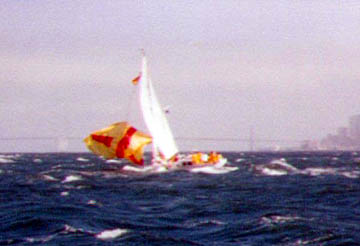 This time, we actually were able to get the jib and main cranked in a bit so that we were sailing up wind toward the next mark, even if the spinnaker was hung up in the French dousing sock that's supposed to simplify the operation. So while we were going up to weather, the foredeck had a lot of people and a lot of commotion. Being an optimistic and trusting skipper, I concentrated on the tiller and tried to maximize the speed to weather, assuming the foredeck activities would eventually subside and get cleaned
up. However, I suddenly felt we had run aground as boat speed dropped to almost nothing. Before I could figure it out, my 14-year-old Stephanie, on her first race, observed, "Oh -- it looks like they've got the spinnaker under the boat."
Yes, I learned boat speed drops dramatically when you drape your spinnaker across your keel. Funny I've never read this in any book.
The rest is history ... and $250 of repairs. Come out to the next race and see my patched up spinnaker!