Newsletter of the Triton One Design Class of San Francisco Bay
http://www.netcom.com/~suter/todsf.html October, 1998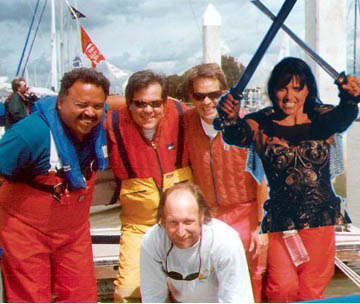 1998 YRA Triton Champions: Dolph, Jason, Joe, Ely, and Sherri
New sails, new attitude: Team Bolero took no prisoners in '98
Bolero wins YRA season
Fall Dinner November 1 at San Francisco Yacht Club in Belvedere
Bolero, 1998.... What can we say besides "blew the fleet away" (OK, we could also say, "where's Ely", but that's a long story). 13 races and 11 bullets. Wow. In Second place there's Sleepyhead owned by Jim Kuykendall and the Commodores (Richard and Harriet Golden). Jim and crew brought Sleepyhead down from Vallejo for all 13 races and the Plastic Classic as well. Way to go Sleepyhead! Hulakai was third in racing but, as you'll see below, continues to totally dominate the white-knuckles, action-photo category. Congrats to these three as well as to the other five Tritons (Viking, Ebb Tide, Andiamo, Hooke and Dogstar) who had a go at the YRA season this year. And as we say on Dogstar, "wait 'till next year".
This year's Fall Dinner (mmm, chicken) is once again at the gorgeous San Francisco Yacht Club in Belvedere. Sunday evening, November 1. By now you should have received information about the dinner from Ann Gilleran. But, hey, this is an imperfect world. If, by some chance, you're reading this and are puzzled 'cause you haven't yet received anything about the dinner, please give Ann a call at 707-257-8106. And remember, Happy Hour starts at 4:00 (mmm, beeeer).
Ray Alsup has been rooting around, trying to find information about occasionally trailering his Triton, Pegasus, to cruising areas beyond the Bay. In the course of his research he's found Triton owner Ralph Weeks in Arizona. Here's what Ray has to say:
"If you think there would be enough interest for a co-op trailer in the TDOSF I'll try and set up a meeting with Ralph when he brings his trailer to area late this year or in the spring of '99....
Ray - Ralph Weeks email follows:
Sparrow's refit moves along, but at a bit of a snail's pace with the blistering hot weather. The engine is in with new exhaust and fuel delivery systems. I have also fitted a new shaft log, stuffing box (the new high tech sealing system) and a drivesaver.....
I know of no specific plans on the open market for a Triton (trailer). I designed and built my own trailer. The effort consumed about 300 man hours of my time, a lot of welding labor, and about $4000 in cold cash. I would be glad to share the design with any Triton owner. However, the co-op idea has been on my mind too. I will be off my trailer by Christmas and am considering several venues in central California, with a trip south (wet down the coast) to San Diego in the works for Summer of 1999. Let's entertain the idea of utilizing the otherwise idle trailer by some sharing. Obviously, I wouldn't mind some modest return on my investment and contributions from the users for upkeep, licensing, storage, etc... I was part of a boat time-share long ago and it worked out great. Maybe we could develop something like that for the trailer. Would be glad to entertain some concepts beginning January 1999 and forward. If there are any interests in building, would be glad to forward plans and offer tech advice. But do expect a lot of time devoted to the effort -- as I mentioned, its a specialty thing if you want to build specifically for a Triton. That's not to say that an existing used trailer cannot be fitted. I have a friend that custom adapted a used trailer for his Ericson 27.
My trailer is a triple-axle, straight-frame, 11,000 GVW system with adjustable pad and electric brakes. NOTE: for any safe hauling, you will need a very, big camper special 3/4 ton P/U or, preferably a one-ton with duals. A Triton is quite a package down the highway, but the trailer is reported to be super by the haulers that have used it.
Keep in touch and get back to me after discussing the time-share concept with some of your fellow pirates.
Regards --- Ralph Weeks
If your interested in finding out more about the trailer speak with Ray at the fall dinner or email him at alsuprk@neworld.net .