John D., #185, one of the many great Triton photos you can find in Ray Alsup's "Triton's Afloat" web page, at http://web.neworld.net/alsuprk/TRITONSAFLOAT.htm

Like to put your Triton's picture online? Info on the site or email Ray at pegasus256@yahoo.com
Spring Dinner, Cruise-in and Workshop, Saturday, April 8
Sausalito Cruising Club
Open to Everyone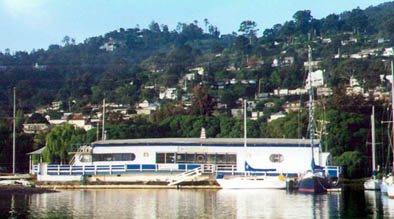 Cruise-in: Arrive anytime that day
Workshop 3-5
Happy Hour 5-6
Dinner at 6:00
Our annual Spring Dinner will be at the always friendly, Sausalito Cruising Club (Thank You, Lowell Jett!). This year we're planning to have a Cruise-in and Triton workshop (schedule to be announced; we're still organizing it). The dinner this year will be a your-choice barbecue. "Your choice" is to either bring something to barbecue or, for a couple of bucks, buy a TODSF burger from Secretary/Treasurer/Burgermeister Ann Gilleran. TODSF will have a supply of tossed green salad, pasta, potato salads and a selection of rolls and breads and dessert. All this for only $8/person (plus the meat). The club bar will be open for our enjoyment.
There is room at the dock to fit in a number of Tritons. In '94 we had eight-or-so parked stern-first to the dock. Cruisers are welcome to spend the night (see the "by boat" instructions below). Sausalito Cruising Club is an easy walk from downtown Sausalito.
Ann Gilleran, TODSF Secretary, will be sending out seperate info/registration slips to all TODSF members. A copy of it will be on the TODSF web page, as well
( http://www.netcom.com/~suter/todsf.html ) .
Ann Gilleran, 707-257-8106 e-mail: Anvylin@aol.com
Directions to Sausalito Cruising Club:
By car: It's right next to Cass' Marina. Go north of downtown Sausalito on Bridgeway (the main street) to Napa St. Turn towards the bay on Napa St. There it is!
By boat: The Cruising Club's on a barge next to Cass's Marina, #65A on your chart. Get to the dock by going north of the small island in front of the Cruising Club. The tides are such that you should be able to easily get in any time after noon on Saturday. There's a -0.5 tide Sunday morning at 10AM, so if you don't leave the dock before about 6:30AM you'll be hanging around with Dogstar until ~1PM, enjoying a lazy morning in Sausalito.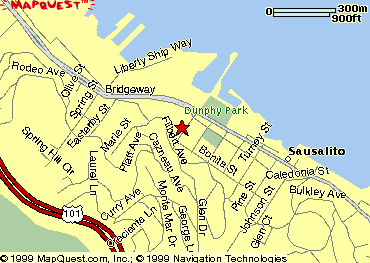 2000 Triton Racing Season
For the 40th (+-) consecutive year TODSF will be doing one design racing on San Francisco Bay. This year Racing Chariman Ely Gilliam has set up a 10 race schedule on five different courses; Vallejo, City Front, Knox, Treasure Island and South Bay. You'll find the detailed schedule on page 1. Nine of the races will be YRA races and the tenth will be at the Plastic Classic Regatta, on July 15, which will also be the race for the Coveted Perpetual Trophy. Working sails only on that one, followed by a fine party at the reknowned Bay View Boat Club. Culminating the racing season will be the 29th National Regatta at the Corinthian Yacht Club.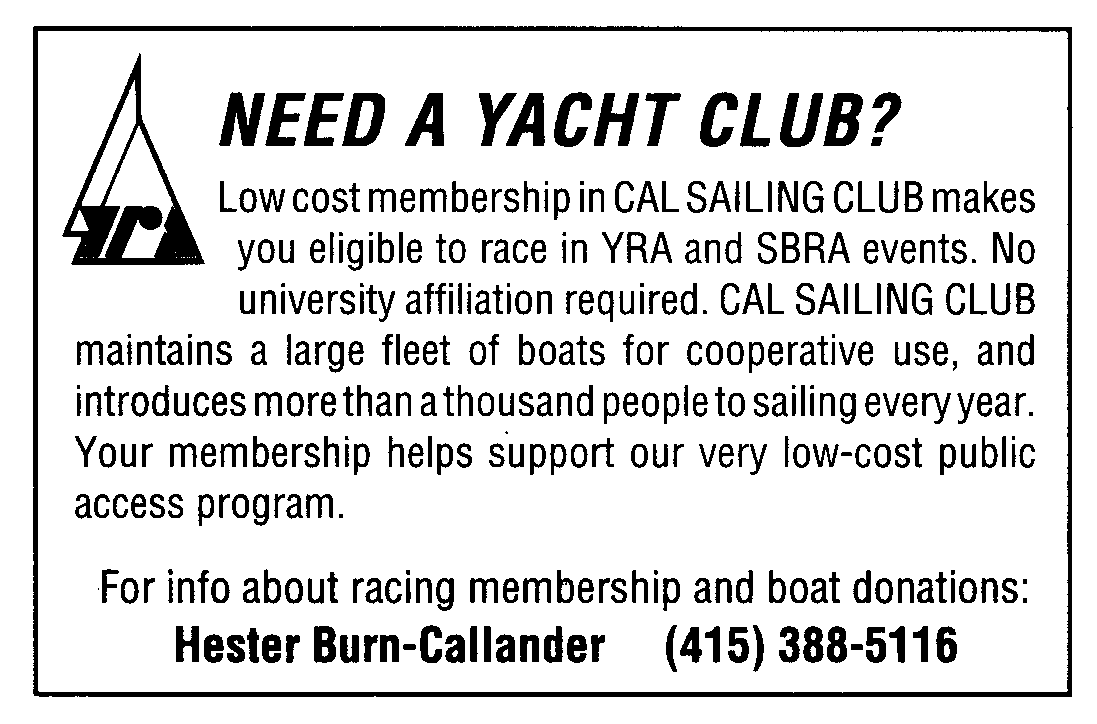 If you've never raced before, consider giving it a try. There's a real exhileration to One Design Racing that's hard to describe. It will also make you a much better sailor. If you'd like to have a go, the YRA sign-up form is enclosed. In order to sign up for the season you also need to belong to a yacht club. Cal Sailing Club has traditionally been the paper-yacht-club of choice for that. (Your hopeful newsletter editor used this dodge for years.)
Finally, confused/intimidated/put-off by "all these rules"? Latitude 38 has put together a racing rules primer reprinted on the next page. They're all we ever really use on Dogstar.
Latitude 38s Basic Racing Guidelines
(from 2000 Sailing Calandar and YRA Master Schedule)
It's not written in any rulebooks, but, since sailboat racing is a recreational sport, we think the number one rule should be to have fun. Beyond that, some basic guidelines help prevent collisions and ensure that racing is both fun and fair. Below is an outline of ten basic rules which cover the most frequent racing situations. For completeness and total accuracy, refer to Racing Rules of Sailing 1997-2000 available from US Sailing.
1 . If boats are on the same tack, and overlapped, the windward boat must keep clear of the boat to leeward.
2. Port tack keep clear of starboard tack.
3. If boats are on the same tack, a boat clear astern must keep clear of a boat clear ahead.
4. When tacking or gybing, keep clear of boats on a tack.
5. Avoid collisions. If you have the right of way and hit the other boat, causing serious damage, you both will be penalized.
6. Don't obstruct. Don't make it hard for the "keep clear" boat to do so. (No hunting allowed.)
7. Sail the course prescribed. You have to round the marks in the direction specified in the sailing instructions and can't touch a mark.
8. Proper Course (same tack, ahead, within two hull lengths). Don't sail above the proper course on a beat, or below the proper course going downwind.
9. Give room at marks and obstructions to yachts overlapped on the inside, except:
a. When the overlap did not exist before the lead boat reaches the two-hull-length circle.
b. To "bargers" at the start except to avoid collision (then protest).
10. Acknowledge your fouls and protest those who don't.
A detailed rule book can be found at http://www.sailing.org/newrules/rulesframes/default.html
Definitions:
Clear Astern and Clear Ahead; Overlap -- One boat is clear astern of another when her hull and equipment in normal position are behind a line abeam from the aftermost point of the other boatıs hull and equipment in normal position. The other boat is clear ahead. They overlap when neither is clear astern or when a boat between them overlaps both. These terms do not apply to boats on opposite tacks (unless rule 18 applies).
"Barging" means coming up from behind to squeeze between the committee boat and another racer. It can get you in trouble.
Your "proper course" is the course you would sail to the next mark if the other boat were not there.
TWENTY-NINTH ANNUAL TRITON NATIONAL REGATTA
- a one design championship -
CORINTHIAN YACHT CLUB
TIBURON, CALIFORNIA
SEPTEMBER 29, 30 and OCTOBER 1st., 2000
The Triton One Design Class of San Francisco Bay (TODSF) announces the 29th annual regatta on San Francisco Bay. Skippers and crew from our national fleets are invited to compete. All members and guests are invited to watch the racing from spectator boats or from the observation decks of the historic Corinthian Yacht Club, with it's commanding views of San Francisco and the bay. Plan now on attending our regatta and national dinner (Saturday evening). Every courtesy will be extended to our visiting members, including accommodations on our boats in the harbor (for the hearty ). Although final decisions are pending, the fundamentals will remain the same:
1) 2 races on Fri. (Sept. 29), 2 races on Sat., fifth and final race on Sun., no throw out races
2) Skippers meeting at 7:30 PM Corinthian bar, Thus. Sept. 28th
3) Skippers will provide their own spinnakers and spinnaker sheets
4) Each boat will have no more than 6 persons on board while racing, one person being the boat owner or a representative of the owner
5) Our patented round robin boat selection process will equalize boat assignments
6) Dinner and National meeting on Fri. or Sat. (Yet to be determined)
7) Entry fee $125 (approximate)
8) Dinner $45 (approximate)
9) The top 3 boats from the YRA summer series will represent TODSF
10) Official details will follow with the race instructions
We have the yacht club and the race courses reserved, we have the boats (I hope), do we have any competors? Contact Tom Newton (707) 552-2325