Newsletter of the Triton One Design Class of San Francisco Bay

http://www.netcom.com/~suter/todsf.html December, 1997
---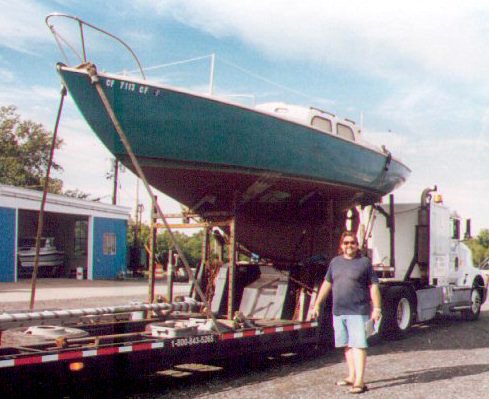 *Ralph Beauregard and Rascal II Feature Article
*Any Triton equipment for sale or wanted?
*Help! Looking for Triton Polars
---
Answer Heads East-

Answer, Triton 374, which has been in the Wilson family for more than 35 years moved East earlier this year to her new home in New Jersey on the Delaware River. For Dick and Meg Wilson, Answer joined the family in 1962, sailing her extensively on the Delta and the Bay. In more recent years, daughter Nancy and her husband Steve Cotterman became the "caretakers" of Answer and moved her to Alameda. At the 1994 (or so) Plastic Classic Answer easily won the prize for being the boat longest owned by a single family. Answer participated in several of our recent Plastic Classics, and was in the thick of the fun race for second place in the '95 Classic and the '96 Classic where Answer sported her first new set of sails since '62. (What indulgence!) However, talking with Nancy in '96 you could sense that "something's up". They'd come back from a vacation in Maine where they'd chartered a boat. Nancy raved about the wonderful time, the great cruising, how the East Coast was a lot better than some of us remember it to be. So, anyway, it wasn't a huge surprise to hear that the Cotterman's were moving east and taking Answer with them. While it's certainly sad to see such long time, loyal members of TODSF go, it's basically a nice story about a boat and a family.